How did you feel when you found out that you had been chosen to be a part of the Oakleigh Belle Leadership Program?
I was ecstatic! My interview for Oakleigh was actually my first interview ever, so I definitely was not expecting to be selected. It was the best surprise I could have asked for.
What was your most embarrassing moment as an Oakleigh Belle?
Oh Lord… we have to wear character shoes as part of our uniforms, and for those of you who are not familiar with character shoes, they're very easy to slip around in. Almost every time I give tours at Oakleigh, I'm constantly slipping all over the floor and making attempts to play it off. Yikes, I know.
What is your favorite memory as an Oakleigh Belle?
The 2017 Homecoming Parade was such a lovely experience. It was the cutest thing in the world to see the elementary school kids waving to us and complimenting our dresses. When we waved back, their sweet smiles made my whole day!
How has being a Belle introduced you to new people?
Through this fantastic program, I have met so many incredible and kind young ladies who share many of the same interests as me. We all work together to ensure that guests receive the best possible tour we can give them; this kind of teamwork has resulted in genuine friendships that I believe will last us all for years to come. I have also had the opportunity to meet some fantastic families from around the world (most recently, a couple from Scotland) who share pieces of their diverse cultures with us.
In your opinion, what is the purpose of doing Oakleigh Belles?
Our main purpose is to spread awareness of the importance of historical preservation. Oakleigh is only a microcosm of how life was from the Victorian to the WWII eras. Understanding our history paves the way for improvements in our futures. To have the honor to share some of this history with people has truly been such a blessing that I would recommend to any girl interested in trying out.
As a whole, how has the Oakleigh Belle Program affected your life?
Becoming an Oakleigh Belle has made me more self-confident, given me opportunities to meet tourists from all over the country/world, and opened the door for new friendships. My life may be a bit busier now, but the experience of being a Belle is more than worth it in the end.
Advice to high school girls considering to interview for the Belle Program:
Don't overthink! The interviews are very laid-back and almost calming once they begin asking you questions. Always be yourself (I know it sounds cliché, but it's so important!) and just be sure that you have a genuine passion for people and history. Good luck, ladies!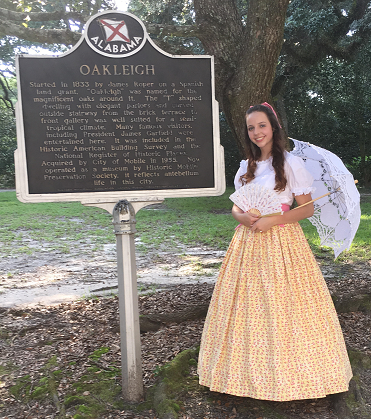 Trinity Walker in her Oakleigh attire