Kiana Shula Staff Writer
It is always good to help out in the community. Even if the deed is not extravagant, it can truly make a difference and that is what our fellow Baker students and staff did. Mrs. McGallagher, along with various students, got down to business and participated in the Habitat for Humanity of Southwest Alabama. On September 30, they volunteered on Mrs. Annie Franklin's home and helped paint the exterior of her house. It is true that a small deed can go a long way because our staff and peers worked on a small repair for someone that left a smile on her face and that is what the program strives to do.
Habitat for Humanity is a global, non-profit housing organization that works in around 1,400 communities across the United States and in 70 countries around the world. Their goal is to have a world where everyone has a decent place to live. And how they work towards that goal is by building strength and stable communities for people and families in need of an affordable home. A way to help the Habitat for Humanity is by going out in your community, like our Baker students and staff, and volunteering at the local build sites because there are always simple things that anyone can do to help.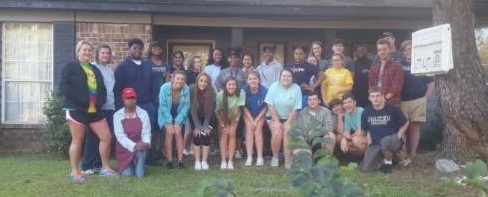 Photo by Habiat for Humanity Southwest Alabama
Baker students working for Habitat for Humanity.