Savannah Johnson
It is that time of the year again… big games, big parades, and the first big dance of the year! Guys dressed to impress, girls powdered their noses, and students danced the night away.
Baker High School began the month of October by beginning its Homecoming festivities and dance. Homecoming is the tradition of welcoming back students and takes place in many high schools across the United States. With many exciting activities centered around homecoming, one of the students' favorites is the crowning of the Homecoming Queen.
The crowning of the Queen is the election of a female student whom is eligible to represent the student body and their class. The Homecoming Queen is someone who has made an impact in the school. At Baker, the eligible maids are announced during pep rallies and participate in the Homecoming parade. Freshmen and sophomores elected three young ladies to represent their classes, while juniors selected five maids and seniors chose seven where one would be chosen Queen. The queen candidates looked very classy and beautiful in their suits as they were escorted down Baker's football field. The crowning of the queen took place during halftime at the football game on October 7th. The freshman homecoming maid is Kensley Meeks, sophomore maid is Abby Davis, junior maid is Carla Evans, senior maid is Anna Boudreaux, and Baker's Homecoming Queen is Emma Griffin. It is an honor for Emma to win Homecoming Queen just as her sister did when she attended Baker High School a few years back. Baker wrapped up its 2016 Homecoming with a football win, a beautiful Queen, and a night to remember.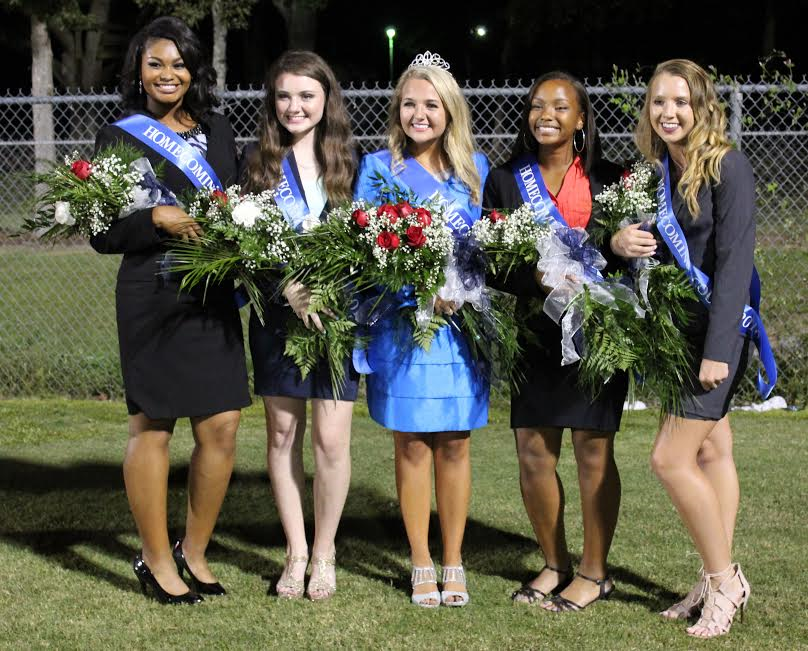 Homecoming Queen Emma Griffin accompanied by the maids.
Photo taken by: Norma Medlin