Gabi Connick Staff Reporter
January 29th through February 2nd, assistant principal Joe Connick attended the Marines Corps Workshop in Paris Island, South Carolina. This program aims to teach educators what it is like to take part in the Marine Corps. For a week straight, participants are trained like marines to experience exactly what it is like to be in the Military.
This program is open to all high school educators around the United States, and is for both men and women. Mr. Connick was the only participant from Baker, though there were 21 people from the Alabama and Mississippi area. When Mr. Connick was asked about what he learned from his experience he replied, "I learned the Marine Corp is for both men AND women and it is also a great self-esteem and confidence builder. It teaches teamwork and is especially beneficial for those who have never had an opportunity to lead a group." He also said that the worst part of this experience were the drill sergeants, and his favorite part was getting the opportunity to shoot the machine guns and complete the obstacle course. All in all, Mr. Connick said that this was a great learning opportunity and he would recommend it to everyone who wants to try something new.
Any staff members that are interested in attending the workshop next year, see Sergeant Harriet for more information.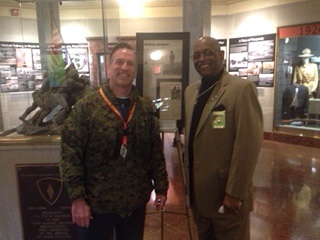 Mr. Connick during the Marine Corps Workshop.