The Alabama Youth and Government competition is a program sponsored by the YMCA. Their website describes the competition as "a three-day Mock Trial Competition for High School Students in grades 9-12." The competition shows students looking forward to a future in the legal system, how trials and prosecution along with the defense works in "mock" trials. The students are given a fake case and are either placed on the prosecution, trying to find the defendant guilty of his or her charges, or they can be placed on the defense, trying to find their defendants innocent of their crimes.
The teams are scored by other students attending the competition and the team with the most points wins that case; however, there is a jury that also decides who they believe won the case and the jury is made up of a team that is not participating in a case at the moment. The judges score is the only one that matters in the end. When asked about what the program meant to them and what they do to prepare for it Elizabeth Railey stated "This program is what made me decide to go into law and it is a really great experience that I hope Baker students will continue to take advantage of." She also said, "We studied all of the evidence and looked for holes in the prosecution's argument to build our case since we only had to provide a reasonable doubt to the guilt of our defendant to get the court ruling in the competition."
This is the first year Baker has participated in this event and we hope to see future students take advantage of this program. If interested in taking part in the Alabama Youth and Government Competition, see Mrs. Waltsgott for more information.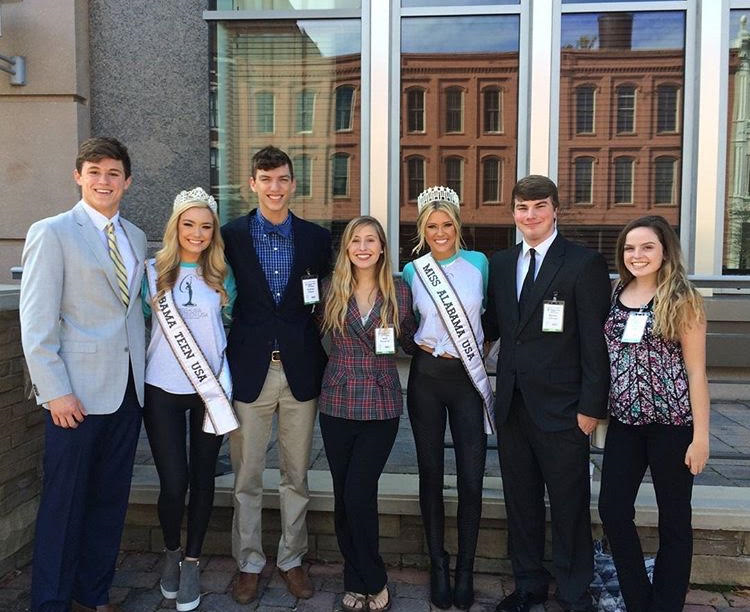 Baker attendants of the competition alongside Miss Alabama and Miss Alabama Teen.